Elsewhere Blood Orange Aperitivo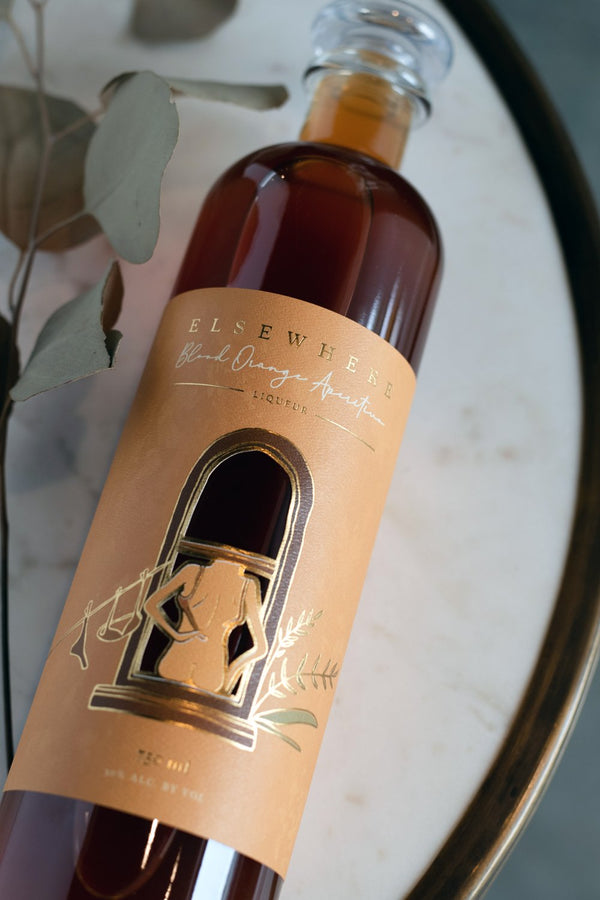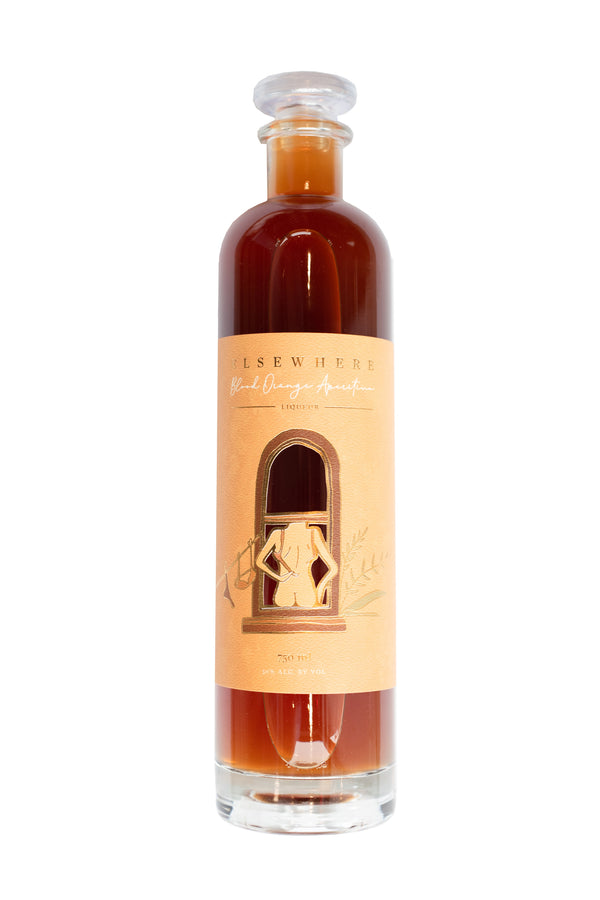 Liqueur
Suggested Serve
Suggested serve: On the rocks, splash of soda
Into the Bottle
There is something sacred about the blood orange. Its crimson shades are due to naturally occurring anthocyanins in the fruit. This in itself is a marvel, as we enamor ourselves with the presence of anthocyanins in red wine fruit as an indicator of whether it may take well to aging - which has been assigned tremendous prestige in the world of wine. Anthocyanins occur in lots of other fruits and flowers - but not in citrus. Except of course, in the beautiful case of the blood orange. Which develops its color at night, when the temperature cools, and the world sleeps.
These oranges are novel not only for their color, but their flavor - signaling their other anthocyanin producing fruits and flowers like raspberry and hibiscus. We couldn't possibly let any part of this fruit go to waste. So we meticulously extracted the juice for eau-de-vie, which will be resting in glass demijohns for the time being. But what to do with the peels and the pulp?
A bath in our neutral spirits was the natural course. Our certified organic corn comes from Thor Oeschner, a farmer in the Finger Lakes region of New York. "We farm organically. This means soil is our primary crop, one we don't ever sell."
"Rotating crops is a hallmark of organic agriculture. Planting the same crop year after year depletes nutrients, invites pests and soil-borne problems. By cycling through a variety of crops, the soil gets a break from the nutrient demands of each plant, and pests and weed pressures are deterred."
This is where the story of Elsewhere takes us, to the fields. We take our corn from Thor and we mill it, mash it and ferment it. Time, temperature, hydration, enzymes and yeast are the ingredients we add to create the alcohol. Column distillation to concentrate it. 
Back to the blood oranges. We filled 2 macro bins with those spirits and began to add the peels and the pulp as we pressed the juice. The pulp and peels sat in the alcohol for a few weeks, the sugars and oils and other aromatic and phenolic compounds dissolving into the liquid. We mixed it up and tasted it daily. Until the day came that we tasted it and decided, THIS IS THE MOMENT.
No matter that it's the end of the day and we're about to go home. It had to come off right then and there. We strained the liquid off. 
Next came the botanicals. Pink peppercorns. Cloud Forest Cardamom. Quassia. Pemba cloves. Gentian. Indian cinnamon bark. Wild Cherry Bark. Macerating for about 2 weeks. In a temperature controlled fermenter with an agitator, whirring the botanicals around 24/7. Adventures in filtration followed. We are constantly iterating our filtration methods - partially out of curiosity, mostly out of dire necessity. For this, our successful methods involved gravity, some mesh screens, a nut milk bag, and maybe a filter made of rope.
A touch of sugar to tie everything together. And there you have it. Elsewhere Apertivo.. a spirit that pays homage and reverence to the magic of the ever elusive blood orange. Available for only a few short weeks each year.