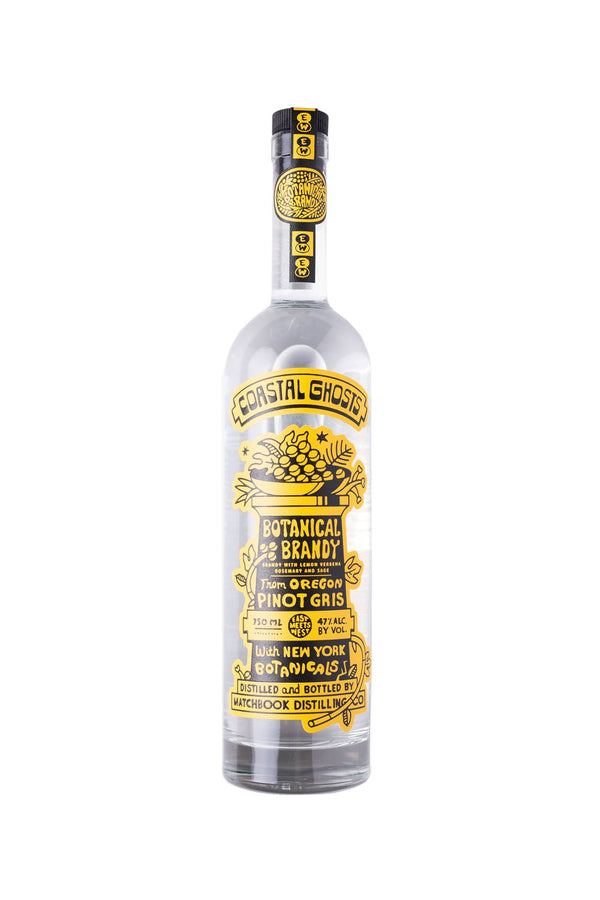 Brandy with Lemon Verbena Rosemary and Sage
A Biodynamic pinot gris wild fermented x distilled with lemon verbena, pineapple sage + rosemary
750mL
47% Alc. by Vol.
Suggested Serve
A splash of dry vermouth or lemon + soda + ice
Into the Bottle
It's no secret - we are awe struck by the wonder of biodynamic agriculture. It was that reason alone we went on a search that led us to Keeler Estate Vineyard in Amity, Oregon - where the fruit for this brandy hails from.
Biodynamics at its most basic is a fanatical approach to composting that harnesses the powers of homeopathy/ herbalism/fermentation/aromatherapy and bases its schedule on the push and pull of the moon.  These practices make for radically nutritious plants - and the more nutritious the plant, the bigger the flavor and aroma.  So, this is some seriously sexy fruit.
We wild fermented the juice and double pot distilled the resulting wine. During the second pot run, we added lemon verbena, pineapple sage + rosemary. We are continually inspired by the convergence of food/beverage, medicine + perfumery throughout history and culture. The three botanicals we chose here are superstars in all. Pineapple sage, for instance, has been a powerhouse in traditional Mexican medicine, a reappearing star of Michelin menus in Copenhagen and a standout in the Givenchy perfume L'Atelier de Givenchy Bois Martial. In Coastal Ghosts the herb lends a cool tang. Lemon verbena is even more well known for its relaxing, floral lemon scent and flavor. Find it everywhere from your kitchen to your medicine cabinet, your bedside table to your bath. And rosemary - a much loved ingredient in the kitchen - was once believed to be a powerful memory enhancer. As such, it became a popular adornment at weddings, a symbol for lovers.