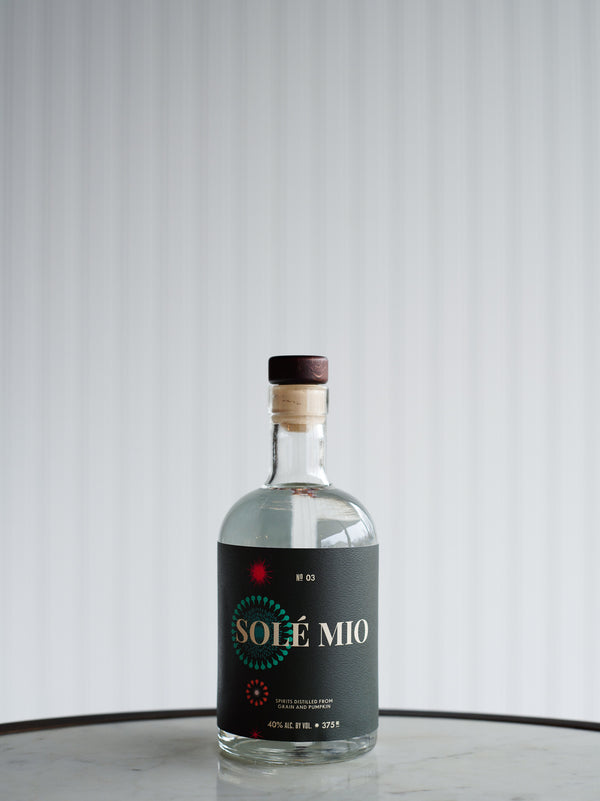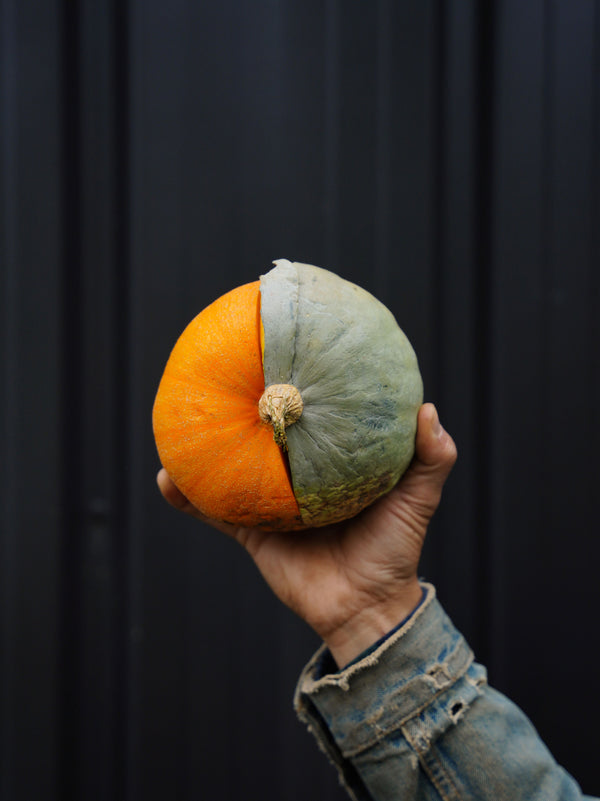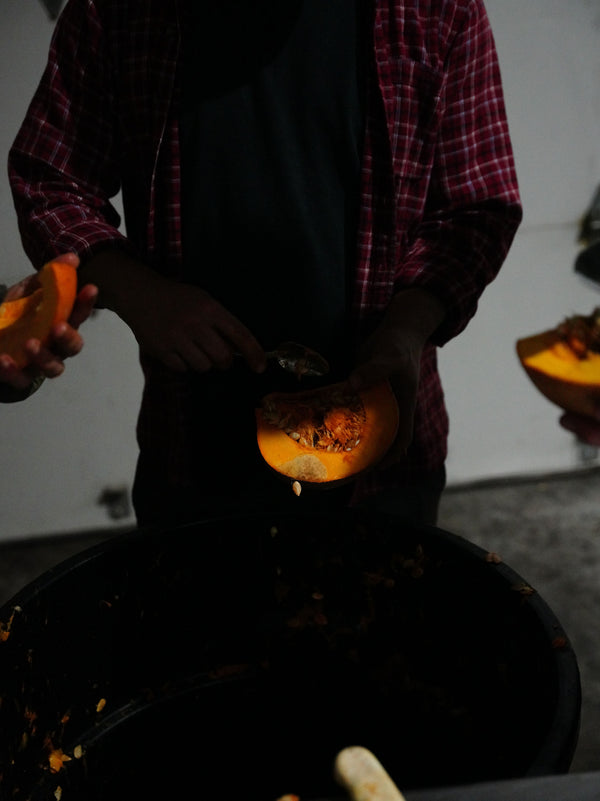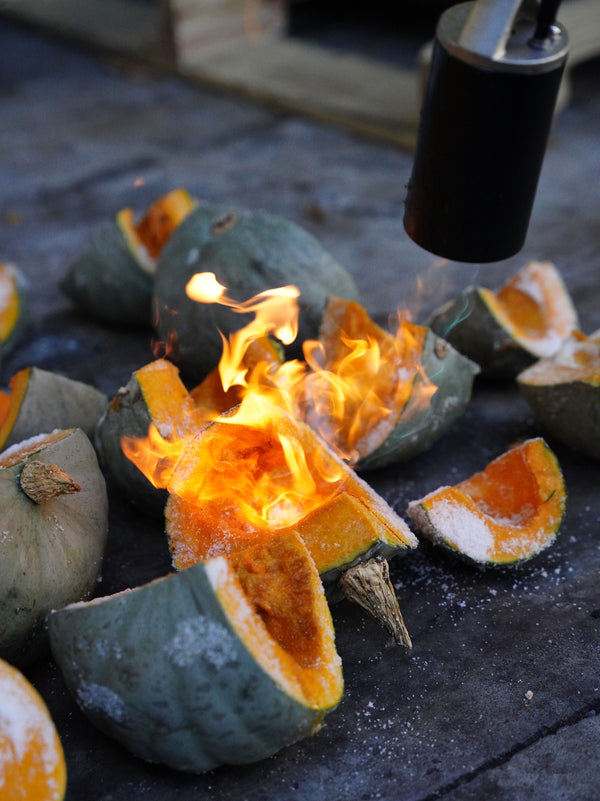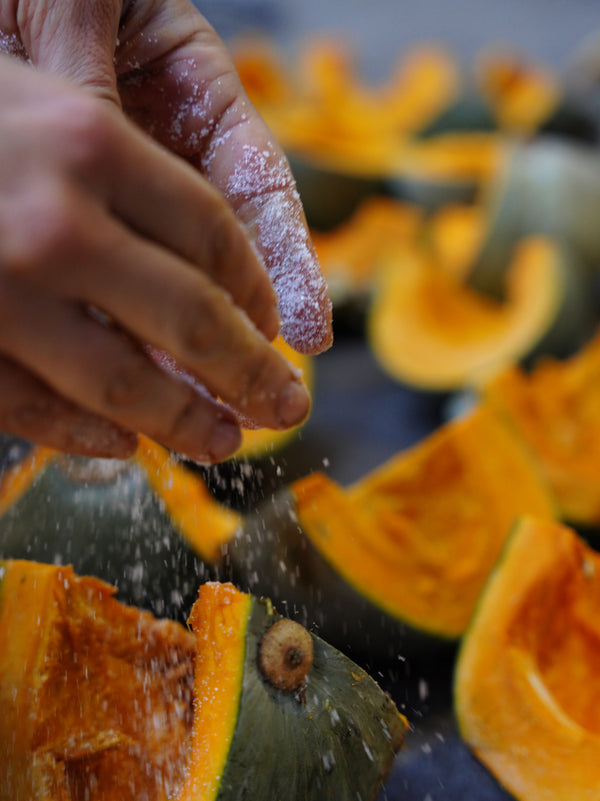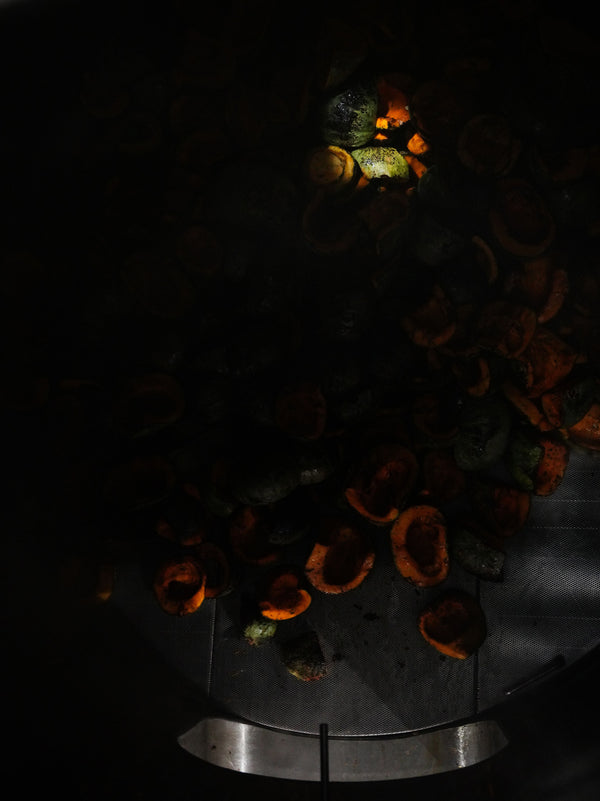 Spirits distilled from koji, caramelized Winter Sweet and Winter Luxury pumpkins, puffed rice, flaked oats, red winter wheat, and malted barley.
Suggested Serve
Neat...or over ice with a dash of Yuzu Sec.
Into the Bottle
Here we are winding down the new year wishes, settling into our stride and it hits us — our fourth year of production at Matchbook Distilling Co.  Solé Mio, an annual numbered release, has us counting our seasons and harvests.  In our first year we were just turning on our equipment, testing our space, tailoring it to suit us, or rather tailoring ourselves to suit it.  The following…we were in full tilt.  We released bottles, had clients, opened a bar…we were developing a style.
Solé Mio was born of local butternut squash.  New and dear friend Pete Trieber had a bounty and we wanted to work with his eponymous
farm
. That meant figuring out how to work with butternut squash.
The next year Pete grew for us the
Long Island Cheese Pumpkin
, plucked from obscurity and headed for pumpkin stardom thanks to the seed saving Slow Food organization and their Arc of Taste, a catalogue of delicious and distinctive foods facing extinction. If you're unfamiliar, check out the
Flor de Calabaza
, a LI Cheese Pumpkin cocktail, where proceeds support Slow Food and their work to keep heirlooms in production and on our plates.
Now in its third iteration, no.3 Solé Mio features Trieber Farms Winter Sweet and Winter Luxury pumpkins.  We cut each pumpkin in half, roll in sugar, then blow torch them to caramelized perfection. The inspiration came from our pen pal Averie Swanson, Master Cicerone and Founder / Beermaker of
Keeping Together
in Chicago. As we were dreaming up Solé no.3 we saw her release Undulant & Impermanent, a barrel aged saison re-fermented with maple roasted carrots and steeped on spent fernet botanicals. Love struck, we shot her a note asking for her blessing and set off searching the web for blow torches, calling our local Agway for propane tanks.
As Solé Mio is constant a creature of serendipity, collaboration struck, unplanned, a third time for no.3. We were growing our koji as we do -- on puffed grains rolled in flour -- when I haphazardly threw in raw flaked oats and ruining the batch. The oats became a paste in the steamy incubation bin and, likely, some wild bacteria found an opportune environment to take over. Damn. Meanwhile we were out of time with the pumkpkins -- they needed to be steamed and fermented before spoiling. To the rescue came our friends at a small sake brewery in Brooklyn.  A call to
Brooklyn Kura
and two days later we were picking up some 400 lbs of their kasu, a mixture of koji, rice, and yeast leftover from pressing sake.
By that afternoon we had the kasu into a fermenter with some warm water, and brought it back to life.  A week later, we caramelized and steamed the pumpkins, then transferred the mash into a fermenter.  Four days after we added some organic flaked oats and freshly milled organic New York red winter wheat, and, of course, some organic
Valley Malt
. Three weeks later, the whole lot went to the pot still for the first stripping run.  A pot/column run followed soon after.
Solé Mio no. 3 was then blended with water to 40%. We love how the candied pumpkin shines on the stage with the fruity and floral koji profile, supported by those cozy grains.
Cheers!
Leslie