Flatlander Aji & Green Corn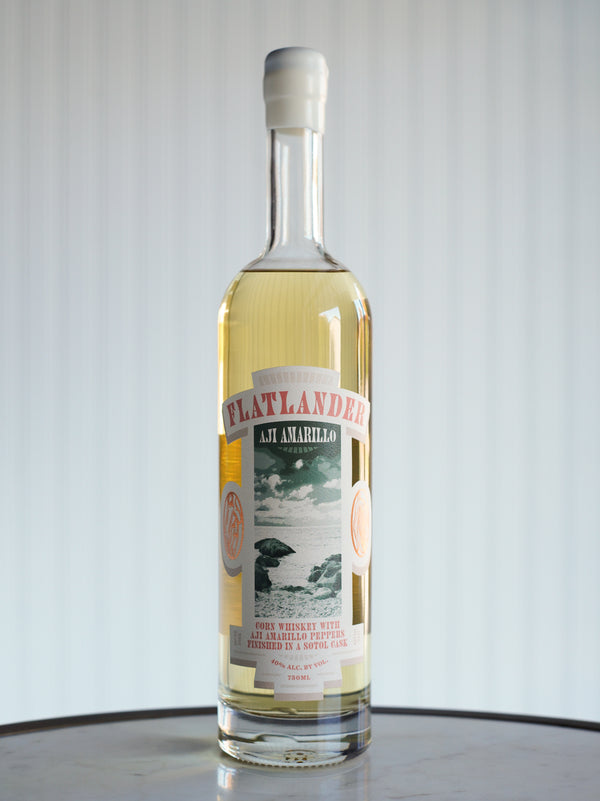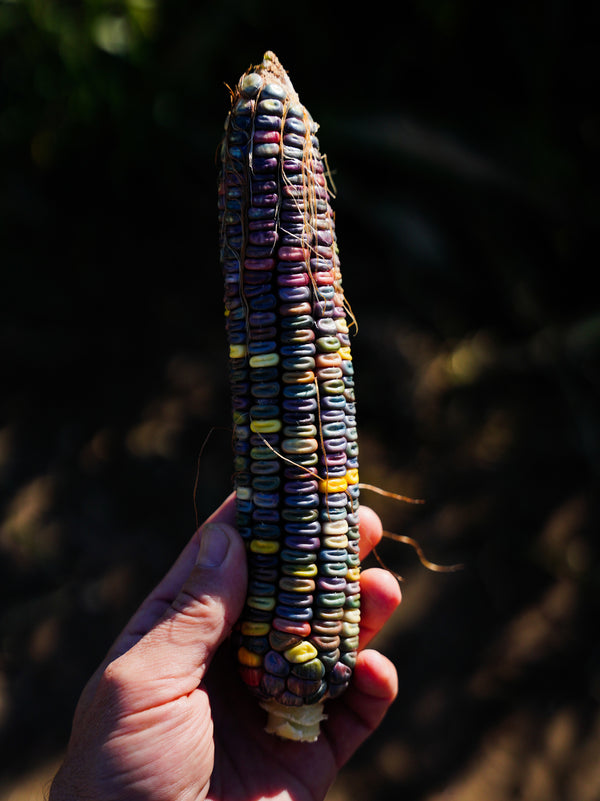 Oaxacan Green Corn Bourbon (Corn Whisky)
83% Corn - 920lbs

17% Malted Barley - 200lbs Malt

1000g GR2 yeast + 500g WB-06 yeast
Distilled w/ Aji Amarillo Peppers
Sotol Cask, 15 months

750mL
40% Alc. by Vol.
Suggested Serve
On a big cube or neat with a beer on the side.
Into the Bottle
Flatlander begins at Rogers Farm in 2017.
Paul + Kathy Rogers converted their family farm from generations of conventional potato farming into an organic and biodiverse growing environment. Rich + lush, and oh, so pretty. Bastions of knowledge + still full of curiosity, Kathy, with her degree in Biology and Paul, a semi retired architect -- keep their focus on developing a farm with a balanced and rich ecosystem.

It was during our first visit to the farm, sometime in 2017, that Dean casually asked if they would be able and interested in growing Oaxacan Green corn for us. It's a blue/green/red/white multicolor corn with a big nutty masa flavor to it. They said they would try and track it down -- and that moment became the beginning of an incredibly fruitful partnership.

Oaxacan green corn grows through the summer at Rogers Farm. It's left on the stalks after maturing to dry out. Paul then cleans the corn and delivers the dried kernels to us. For this barrel of whiskey, we milled 920 lbs into our mash tun with 200 lbs of Andrea's Nature Valley Malt. During the milling and mashing stages we are breaking down the complex carbohydrates in the grains -- setting the conditions for those complex sugars to dissolve into the water. The enzymes, naturally present in the malt, are going to cleave those complex carbohydrates into simple sugars - glucose and galactose primarily. We then pump over our mash into our fermenters, aerating the mash and cooling it down. When the mash gets down to about 75F, we pitched our yeast -- 1000 grams of GR2 yeast + 500 grams WB-06 yeast.

Our whiskey fermented for about a week before pot distillation. While we were distilling this whiskey, our friend Greg of The Hoppy Acre farm reached out to us with fresh aji amarillo peppers he had grown, wondering if we could use them. We've always loved our friends at Empirical's habanero spirit and we had just been hearing another friend rave about the wonders of adding aji amarillo peppers to, well, everything. So we chopped them up, macerated them in the spirit, and returned the whiskey with the peppers back into the still. Capsaicin, the protein responsible for making peppers hot, have a very high boiling point, so mostly, the heat stays behind in the kettle, allowing the other aromatic components to come through to the spirit - components that often are overshadowed by the heat. We found really tropical fruit flavors like passion fruit and guava along with some bright lemon and classic bell pepper.

By the time the whiskey had come off the still and was ready for barreling, a cask previously holding Sotol came in from Dessert Door. It smelled like bell peppers, coriander, vanilla and eucalyptus. Into the barrel it went.

Matchbook is a distillery by the sea on a long narrow island. We take inspiration from our neighboring farms and their bounty. And we pay homage with accents and punctuation from the world over. This is Flatlander.

Happy exploring!
Leslie