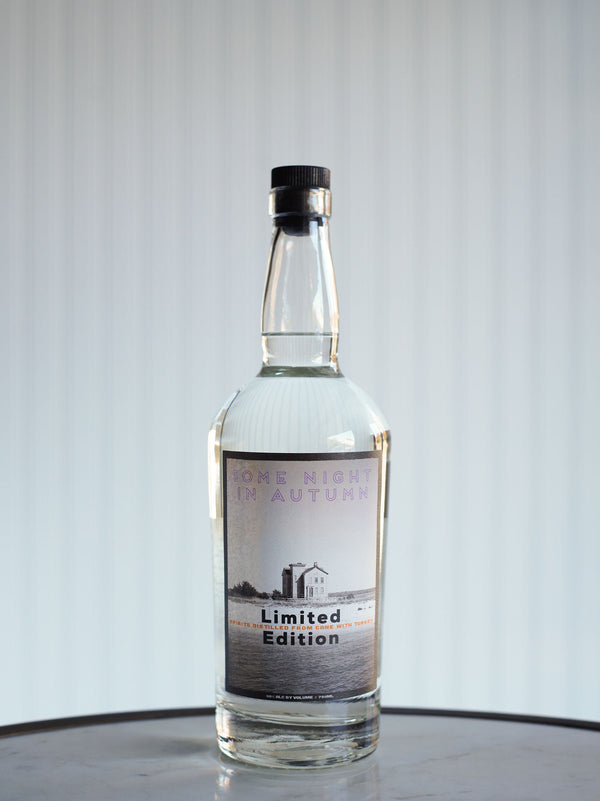 Spirits Distilled from Cane with Turkey
Molasses mashed with dunder double pot distilled with a turkey hanging in the kettle

750mL

40% Alc. by Vol.
Suggested Serve
This one is great neat, in a daiquiri, or mixed with a bit of amaro!
Into the Bottle
Some Night in Autumn is, in many ways, kind of a mile marker for us out here at Matchbook.  One of our earlier Drop Shop offerings, from a time a couple years ago when the world was on pause and our business model was evolving, as with the world.  We were doing alot of experimenting back then, sunchokes and pineapples, gourds and grapes.  On a lark Leslie procured a turkey from our neighbor and dear friend, and as we were maybe also drinking a bit of mezcal those days fall smoke and crisp breath led to inspiration. 

Our first Some Night release was in a half bottle, with a lovely if hastily acquired label.  Rum is in our distilling DNA (our water minerality is formed after Jamaica's Blue Mountain River) and we have since released a few more.  As a part of an effort to make sense of our many constant offerings, we went ahead a collated our rum bottlings, gussied up their covers.
The world has turned a few times and our story has evolved.  Just as delicoius as ever and available again on the Drop Shop in a smart new outfit, the same old dunder rum distilled in a Pechuga style.

Enjoy!
It's a straight shot down the North Rd to Treiber Farms. It was already pitch black when I pulled in at 6pm, a hallmark sign of the off season. When the moon is big and high, it's a spectacular thing.. but the drama can be even more so when it takes a backseat to the vast expanse of stars. Fumbling around in the dark, I found my way into one of the storage barns and into the deep freezer where our 22.5 lb turkey was waiting for us.
Some Night In Autumn tastes like layers and layers of chocolate mixed with flavors of cane and meat. There's a richness to it and just a hint of cinnamon spice. It's feels warming to drink. It leaves me wanting more. That's not the case for all spirits we make. Some of our bottles are think pieces, experiments, musings about another way to do things. Others are for long bubbly drinks; and others for short stirred ones. Generally our bottles are unfinished works, ingredients waiting for you to complete them. A splash of soda here, a squeeze of lime there.. This one too will make for a fine mixed drink. But for some reason, when I sip it — I think about how good it will taste, passed around a table with friends late into the night. It tastes warm, and happy and oddly familiar. And that's a pretty strange thing to say about a rum distilled with a turkey. But there it is.
For you spirit geeks out there, you've probably heard of Pechuga. It's a tradition of distilling a chicken (or turkey, or rabbit, etc) in a final distillation of a batch of Mezcal - and if I understand correctly, it's primarily a tradition practiced in the spirit of celebration - a loved one achieving a milestone, a birthday, a wedding. There is something about distillation that connects us to places we've never been, people we've never met, and times long passed us by.
They're called spirits after all.
Some Night In Autumn started with a molasses mashed (in this case meaning added to hot water) and co-fermented with dunder - a flavor and acid rich liquid leftover from our last rum distillation. The mash bill, or fermentation recipe, was crafted by Dean, our head of production [at the time]. After fermentation, and before pumping the fermented mash over, Scott [our head of production now!] jumped inside the 600 gallon still to start hanging the 22.5lb turkey. Stills, by the way, are not necessarily designed to hang 22.5 lb turkeys in them.. so late into the evening, we were reaching, lifting, slipping and laughing — in the best of spirits - as we endeavored to join in on this time honored tradition from Oaxaca. The following morning, when the turkey was mostly thawed, we began our first distillation. Our second distillation was conducted the following day on our 300 gallon pot still. That final spirit was diluted with water and rested before bottling. Happy December! 

Cheers!