No Where Morning Nightcaps + Afternoon Dreams Whiskey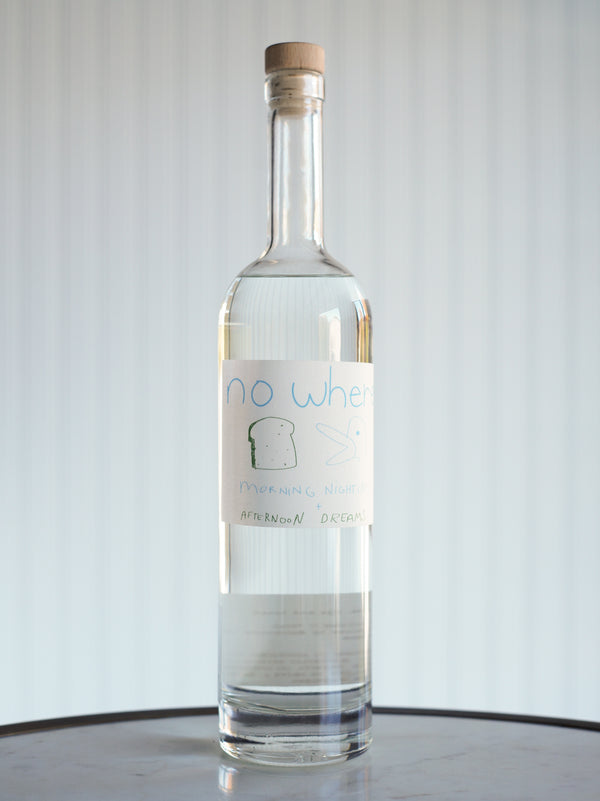 Day old bread

750mL

45% Alc. by Vol.
Suggested Serve
Nowhere Manhattan blanc: 
2 part No Where Bread Whiskey, 1 part Dolin Vermouth Blanc Dash Orange bitters *Add all ingredients into empty glass. Add ice. Stir down and dilute. Strain into chilled coupe glass.  Serve ice cold with an orange twist.
Into the Bottle
We took four large bags of day-old breads from Blue Duck Bakery Cafe and tore them into chunks before adding them to the kvass. Kvass is a soured malted rye.  That kvass was milled and mashed with hot water.  The enzymes from the kvass malt acted on the bread to break down the starches into simple sugars for the yeast to then ferment. Bakers put so much love, intention, and the energy into the way they process grains – just as we do – only the love from that labor is only at its peak for so long.  By turning it into whiskey we can capture the essential aromas and flavors from those breads, play off them with beautiful flavors from our malt and draw them out further in the aging process – where they can flourish eternally in wood or in a bottle until they are imbibed.
Mash bill: 450 lbs kvass rye, 4 bags of Blue Duck bread, 500 grams of yeast.