Ambrosia Vodka w/ Almond & Rose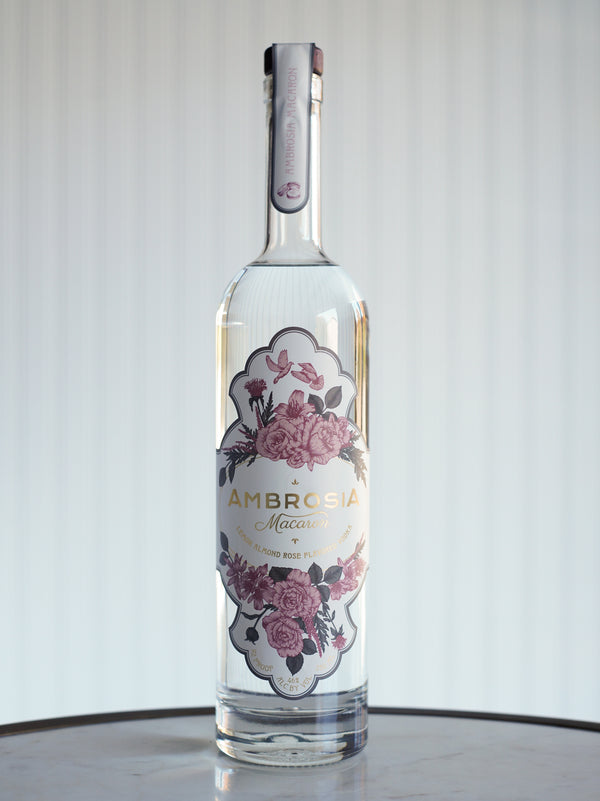 Lemon Almond Rose Flavored Vodka
Crushed almond + dried rose petals + fresh lemons

distilled into alcohol made from NY grain

750mL.

46% ABV.
Suggested Serve
Suggested serve = Ambrosia + soda + ice.
Into the Bottle
A note from Leslie: Growing up, my mom was an artist - that was before she became a biodynamic farmer. I spent a lot of time in her studios, and in galleries and museums - it was the 90s in New York City. She and her friends were making art that was big and beautiful - and they were beautiful, and effortlessly cool. Studios were big lofts around Soho, Fort Green, Nolita, Meat Packing — high ceilings, with walls and floors covered in paint and dusts. This was the backdrop for my first memories tasting a macaron. And the juxtaposition of that perfect merengue almond cookie, with its hint of lemon and its dash of rose, has stayed with me all this time. Now that I have Matchbook Distilling Co. - a sort of studio of my own - with high ceilings, floors and walls stained with fruits, and effortlessly cool, talented creators to collaborate with — I am delighted to bottle this perfect memory up for you. To make Ambrosia Macaron, we ran 3 separate distillations - one for each of the components. We started with almonds, which we crushed before adding them to the still with our NY grain spirits, and macerating them in the still for 3 days. Next we did rose petals - cold brewing them in the alcohol overnight before distillation. And finally, the lemons. We bought fresh organic lemons and prepared them for the still in a variety of ways — some went in whole, some were halved, others quartered or cut into 1/8s. Those steeped in the cool alcohol and water overnight before distillation. After the distillation, we put together our blend of the three. 2 parts almond, 1 part lemon and 1 part rose. We add water that we've purified using UV light, charcoal and reverse osmosis. And then it's an almost imperceptible sprinkle of minerals to finish it off. There is a level of fascination for the emptying of the still. Perhaps it is the visual cues of seeing that we've extracted and captured the essence of something, and what remains is its former vessel. The alcohol and water vapors carrying the essences, and condensing at the end of the journey, into this newly crafted spirit. With the lemons, it was so true - the vitality in those lemons, and almonds and roses, now exist in these bottles, for you.