Primates: Something Infinite ≠ Infinitely Something: Plum Sec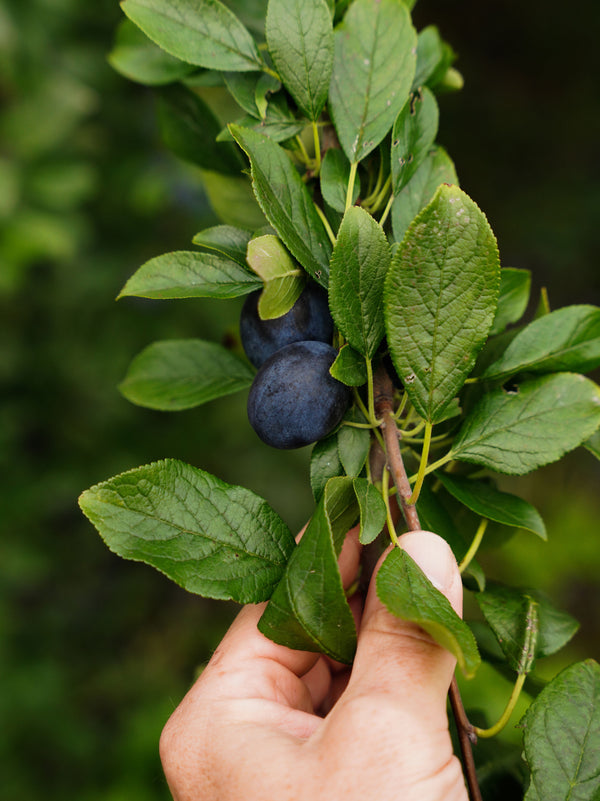 Grain Neutral Spirit & Whole North Fork Damson Plums

375mL
160 lbs of Damson Plums + 38 gallons of 27% spirit for 5 months
25% Alc. by Vol.
Suggested Serve: All by itself or in a Plum Fizz

Into the Bottle
Turn left off out of the distillery, right, then left again, then carry 18 miles on the North Road.  Pass through vineyards and fields, vinters and farms.  Depending on the time of year it's petals or stalks of sunflowers or corn fluttering by.  Midsummer strawberries, autumn pumpkins on vines, cars stopped & filled with peepers, scarf dawned & down-windowed cruisers in convertibles, all line .

On a good day in September the drive takes 30 minutes.  Salt gusts and late greens giving over to alluvial dips and tall trees, as you wind your way to a farm stand, a wooded bluff, and a mile of orchards nestled between.  It's a trip that on cool mornings begs the escape.  And a trip that we out here at Matchbook are lucky enough to make often, to Briermere farm.

Fruit season, midsummer through as late as the fall will allow, is an intensely busy and happy time for us.  Our attentions turn to berry aperitif, fruit vermouth, eau de vie, and seasonal sparklers.  From our friend Clarke we procure rhubarb, apricots, peaches, cider apples (the Newtown Pippin a favorite) and if we are lucky a handful of Briermere's famous fruit pies that drive traffic on the Wading River side of the North Road.

Dansom Plums are small, tart-sweet, field mouse sized, purple blue flavorful delights.  This fall we brought in 160 pounds of them, just enough for a drum of liqueur.  The plums rested in 38 gallons of New York corn spirit at 27% alcohol for 5 months.  This week we lightly filtered it, lightly sweetened it and beautifully labeled it.

Our Primates line-up is becoming quite the collection.  A group of 'Sec' liqueurs made by maceration or botanical distillation, it has so far been a citrus party.  Today on the Drop we branch out and offer a 'Stone Fruit Sec.'

Primates: Something Infinite ≠ Infinitely Something, Plum Sec made from NY corn spirit and Damson Plums from our friends up the road.  We made as much as we could with these tiny delicious stone fruits, and it's still not a ton.  Grab some while it lasts!


Cheers!