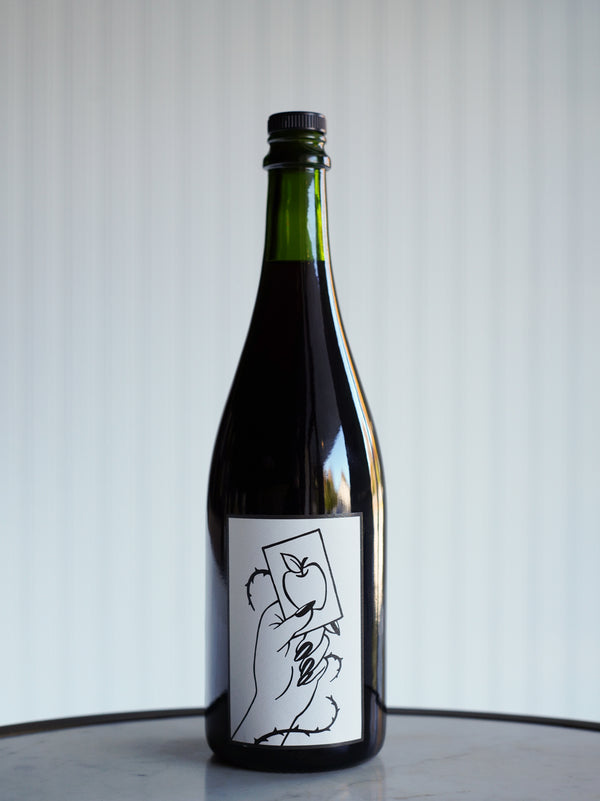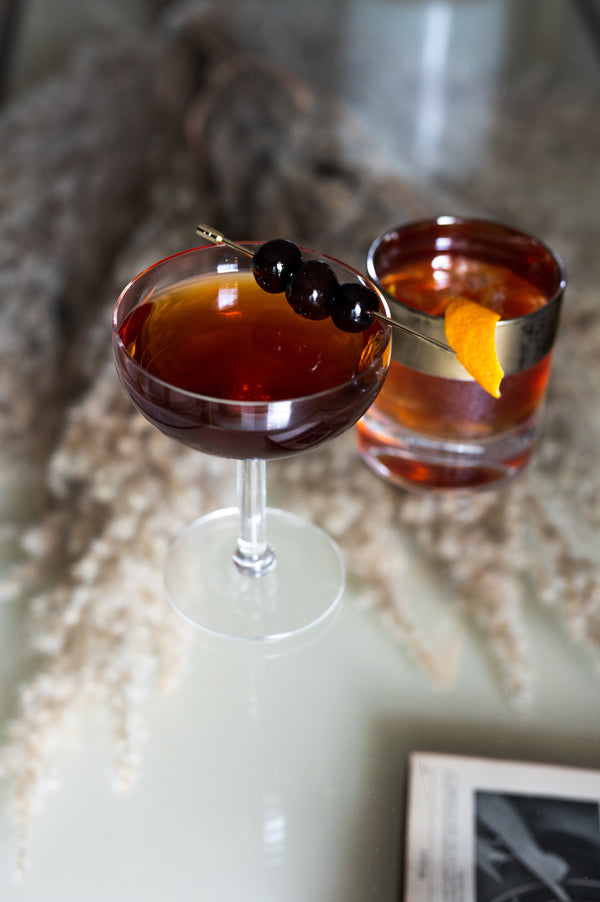 Liqueur
A sweet vermouth made from oxidized Pinot Noir wine with Sauvignon Blanc eau-de-vie infused with pink lemons, rose petals, palo santo and wild cherry bark, finished with sugar.

750mL.

17% ABV.
Suggested Serve
Suggested serve: On the rocks, splash of soda
Into the Bottle
Vermouth is a beverage with great architecture. It's made by combining wine with spirits, an infusion of botanicals, and the concoction is finished with sugar. So many choices from start to finish. Using wine that's oxidized, or not. High acid or low acid. A flavorful grape eau-de-vie, a neutral grape spirit, a grain spirit, a cane spirit.. and that's before we even get to selecting the botanicals and the style of sweetness.
Last year we applied for our wine license. Like visitors who pile into the North Fork every Fall, we were seduced by the magic of harvest season. From year 1 of our production, we found ourselves drawn into the vines. Like it was fated, a few months after we'd opened, the lone biodynamic vineyard out here reached out to us offering us under ripe fruit due to a looming early frost that would ruin the crop if it weren't harvested. And we've never looked back. Last harvest just about marked the start of our 3rd year, and fate struck again when our long awaited winery license finally showed up in the mail.
We reached out to Macari, a local vineyard, and asked for a little pinot noir fruit to make some rosé for our sister property The Lin. And again, fate! One moment Ella is telling me there probably wouldn't be any Pinot available.. the next moment she's telling me I can have what I asked for.. and the next, she's asking me if I'm interested in a couple tons! Fate.
So, we made our first 3 barrels of red wine last harvest. We carefully made the wine without any additives or any fancy equipment. The old school way. To make sure we had a very clean fermentation without any aids, fruit selection was key. The best fruit went into the wine. The seconds became vermouth. In vermouth, those flavors that would destroy the character of a Pinot Noir actually help shape the character of the vermouth.
So we have our wine. Now we needed to add spirit -- we chose an eau-de-vie we made the year prior from Sauvignon Blanc eau-de-vie -- made from fruit grown locally by Jamesport Vineyards. The botanicals came next. Fresh and fruity pink lemons. Palo Santo. Dried rose petals. Vetiver. A dose of sugar. This is Forbidden Fruit.
Use it in your drinks wherever sweet vermouth is called for -- or try it in drinks calling for a bitter sweet component. Or drink it neat or with a little ice as an aperitif. Mix it with some Elsewhere and some soda water for a really jazzy Americano.