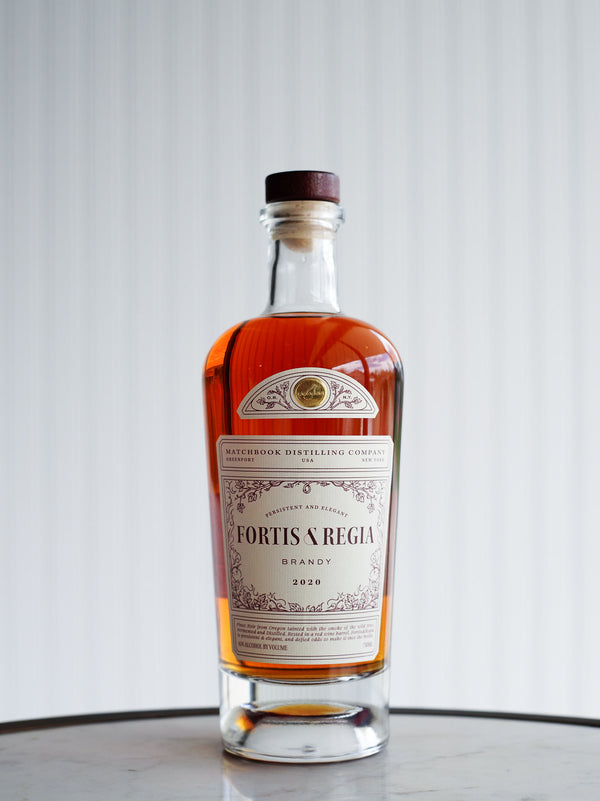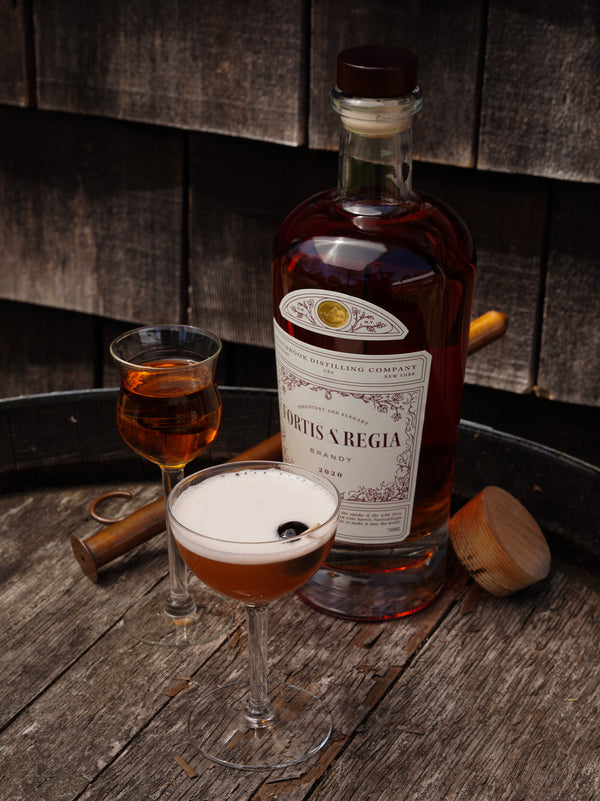 Wild Fire Brandy

Smoked Impacted Oregon Pinot Noir from

Flâneur

Aged 2 years in a Red Wine Cask


750mL

45% Alc. by Vol.
Suggested Serve
Neat or in a Zenie Cocktail!

Into the Bottle
Fortis & Regia is a brandy made from Oregon pinot noir fruit that absorbed smoke from the wild fires. 
Smoke impact involves heavy phenolic compounds get bound up with sugar in the fresh fruit, letting their presence go virtually undetected, until fermentation liberates those compounds and makes a resulting wine described to me once as akin to licking an ash tray. Some winemakers have done some truly outstanding work to shape these affected wines into some remarkable bottles -- but it presents a remarkable challenge. Climate change and extreme weather pose a grave threat to wine growers. Trying to recoup your investment on a growing season lost to wildfires, drought, extreme disease / fungal / pest pressure is a bleak and often futile exercise. Distillation - involving the separation of molecules by boiling point - can liberate the alcohol and the wines more delicate, volatile aromatic compounds, capturing them and concentrating them into a spirit and shielding them from the elements of decay. For wine growers facing increasing pressure and uncertainty, options for what to do to stay whole become increasingly important.

Fortis & Regia gets its name from alchemy -- loosely interpreted to represent strength and resilience, riches and luxury. From the ashes springs something new -- and while far from the soft and rich wine expressions they had been grown for -- they find a second chance of life in this new form - as a brandy. A form that is protected from decay and spoilage -- and will sit, waiting for those who will enjoy it, whenever the occasion presents itself. And it will be just as lovely then as it is today. The fruit for Fortis was grown by Flâneur, a vineyard and winery in Oregon making truly beautiful wines. We purchased approximately 600 gallons of their pinot noir that had been affected by the wildfires, distilled it, and rested it in a red wine cask for 2 years before bottling it at cask strength. This bottle celebrates community amongst the growers and makers of wine and spirits, and those of us who consume them passionately.