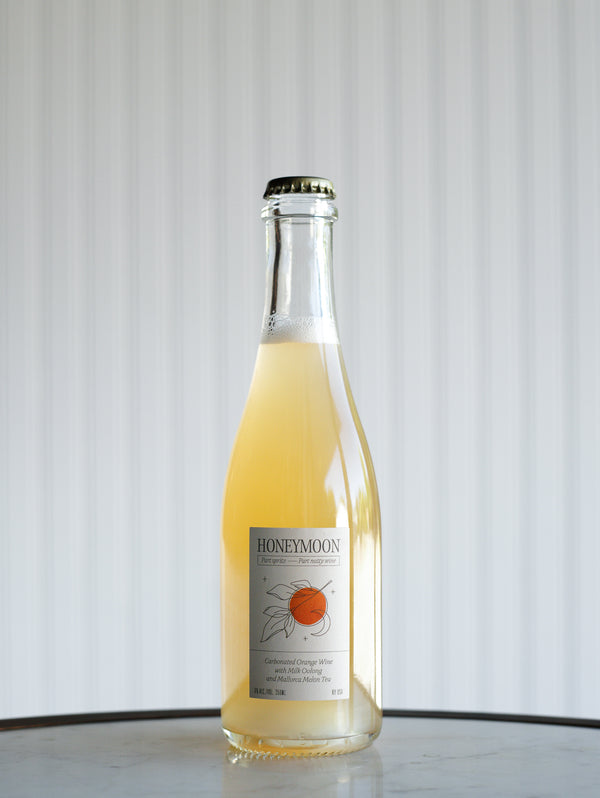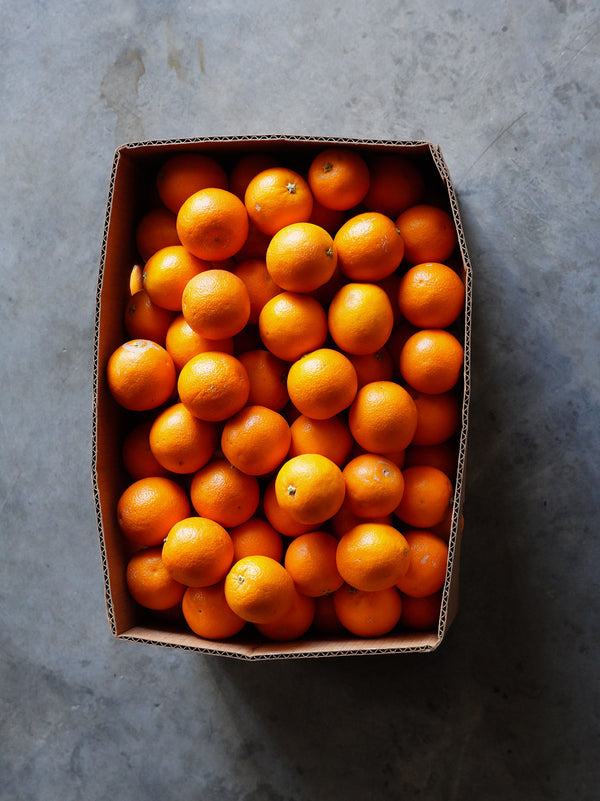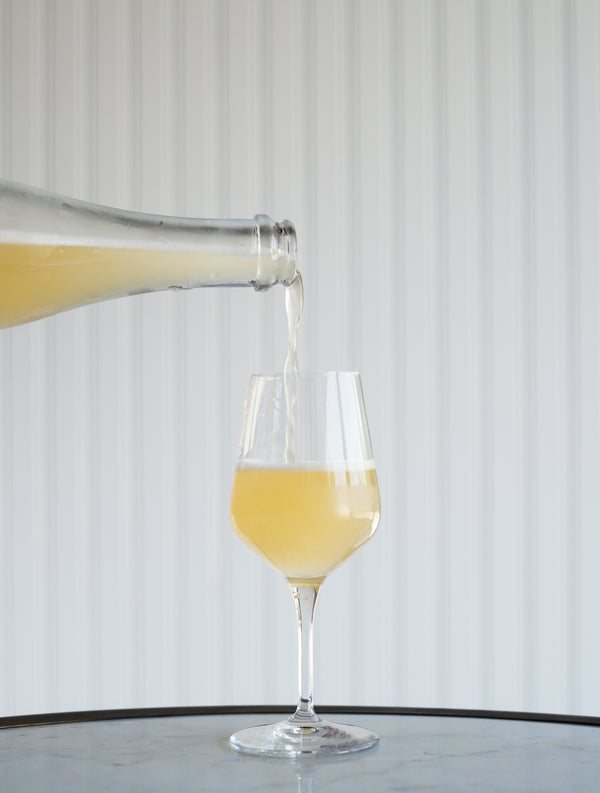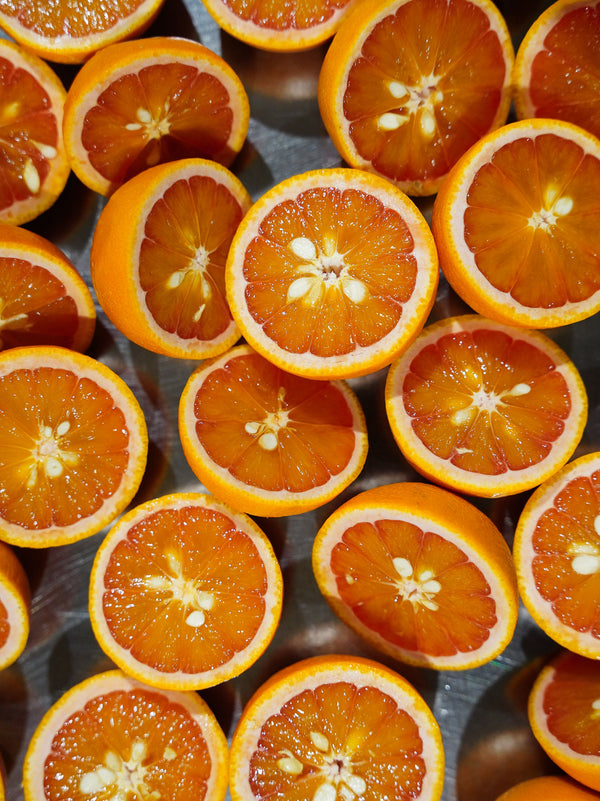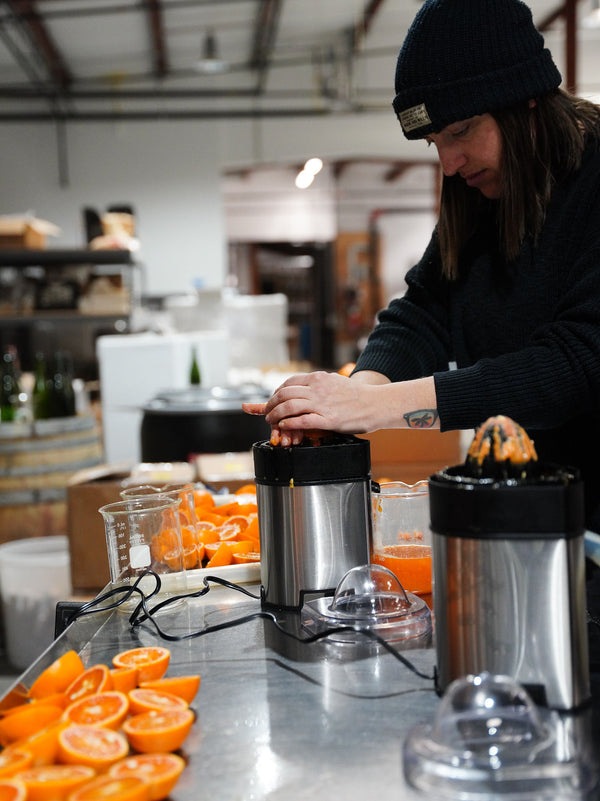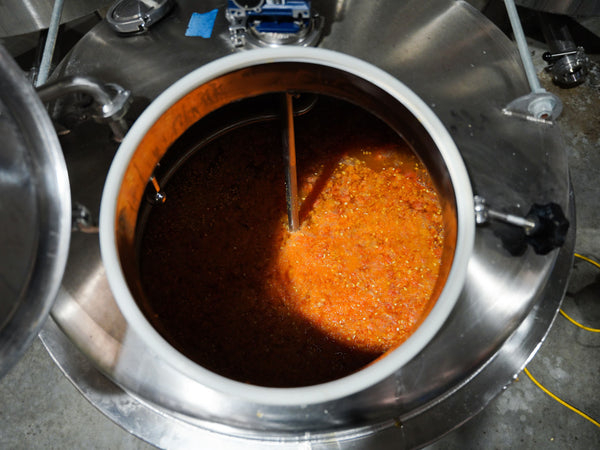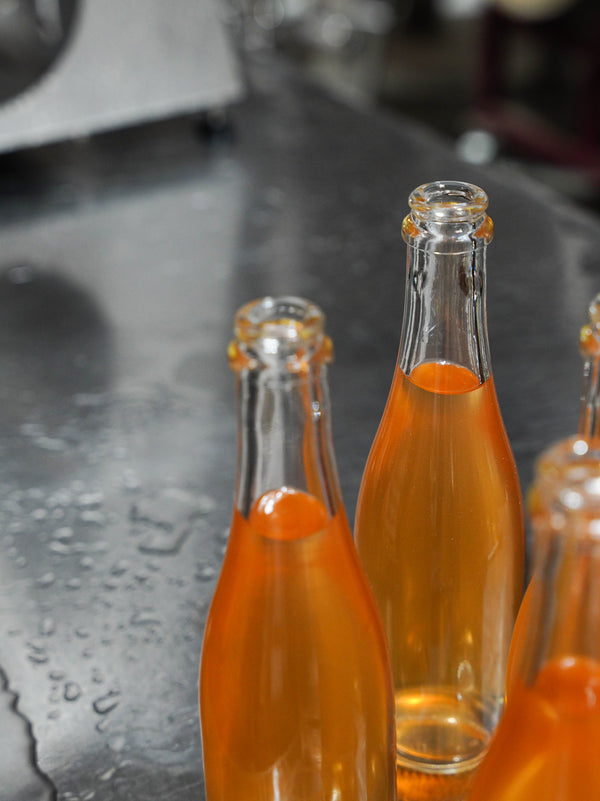 Sparkling wine from Oranges, w/ Honey, Milk Oolong & Mallorca Melon Tea.

Fresh Juice of Mango Orange, fermented w/ a dash of Honey

Milk Oolong & Mallorca Melon Teas

Bottle Fermented
350mL
6% Alc. by Vol.
Suggested Serve
Like a wine w/ bubbles, chilled!  (Also makes a great topper to a South Side w/ Muses...)
Into the Bottle
Honeymoon is a happy ending to a comedy of errors. It's a sparkling surprise twist that emerged from a saga of frustrating phone calls with our government regulators. You, dear curious drinker, and I, maker of curious drinks, may understand 'orange wine' to refer to white wines made with extended juice-on-skins contact. When red wines are made, grapes are harvested and then generally pressed but the juice and fruit skins are kept together for a period of time aka maceration. Juice for white wines is pressed off immediately -- contact occurring for a matter of minutes, maybe seconds. Orange wines are a hybrid -- white wine grapes pressed and left to macerate on the skins for a prolonged period of time. These wines are distinct in all maters of ways from their white wine sibling -- therefore designating a wine as an orange wine on the bottle would be a huge help for guiding drinkers like ourselves. However, the federal government regulators believe strongly that a drinker seeing "Riesling Orange Wine" would communicate the presence of actual oranges in said bottle of wine. And therefore, the descriptor 'orange wine' in the United States has been prohibited...

Fermentation produces acids -- making anything fermenting more sour than it started. The idea, therefore, of making a wine from a citrus, already characteristically sour, seemed completely mad. But anything unknown can seem crazy and out of this world when encountering it for the first time. And so, Scotty and I embarked on a journey to make an orange wine.. from oranges.

Flavors by Bhumi has a passion for citrus that can brighten the distillery on the coldest of days. The husband and wife duo, Seema and Vivek, called us with the news -- they had found an orange with virtually no acid. The mango orange is incredibly sweet -- tasting like its namesake mango fruit with vanilla and white flowers. We pressed the juice and got it into a fermenter with a bit of honey and a few pounds of Freak of Nature Milk Oolong and Mallorca Melon Tea, both from Rare Tea Cellar, and let it rip. After a few short days we strained off the solids and bottled Honeymoon with a dash of sugar to ferment in bottle -- creating a dash more alcohol and the perfect amount of carbonation.

These bottles are light in alcohol and acid -- which means they won't be fresh forever. Drink them young. They remind us of a happy place between a wild, low intervention wine and a spritz. They're perfect for this season, when summer and fall create the most delicious overlap. Happy harvest.
Cheers!