WINTER OF '21 HYGGE AF PICNIC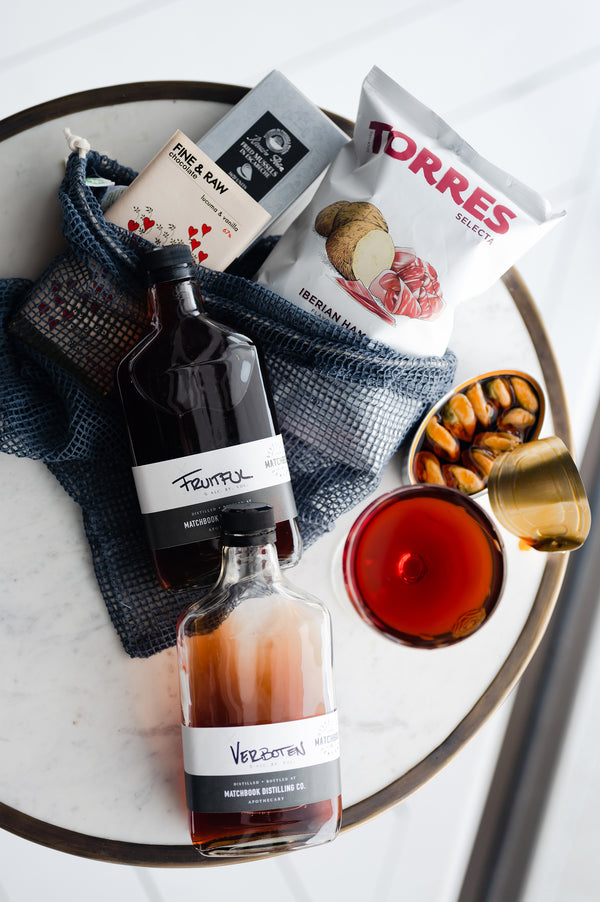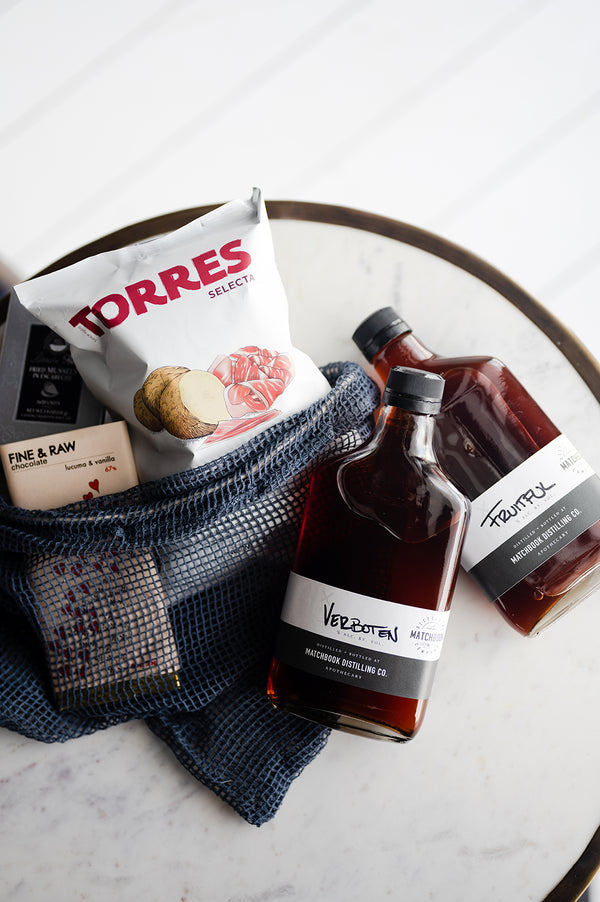 A mid winters picnic. Put on some warm winter socks, spread out a blanket on the floor.. light some candles. We're going Hygge AF; winter edition. Unfamiliar with Hygge? We picked up our love for the word; its culture and traditions, in Copenhagen, during the winter. Its about riding your bike to and from work, in the total dark, when its freezing cold out. It's about homes, coffee shops and bars all being lit by candlelight. It's about warm socks. It's about sweet and savory foods. It's about company.
Into the Bottle
Matchbooks Winter of 21 Hygge AF picnic invites you to sit down and indulge in some of our favorite, warming and cozy indulgences. Put on your socks, pull up a blanket, light some candles and simply enjoy. We've made it as easy as possible.
Inside the Hygge AF winter of 21 picnic, we're giving you a teaser of Matchbooks first ever liquid made under our brand spanking new wine license — Forbidden Fruit Vermouth, which will be released later this Spring.  The Vermouth is made from our house made Sauvignon Blanc eau-de-vie blended with our pinot noir.  We macerated it with rose petals, palo santo, wild cherry bark and fresh pink lemons.
Forbidden Fruit is featured in 2 bottled cocktails - each bottle serves 2 x 6oz drinks:
Verboten : Forbidden Fruit Vermouth, the locally grown herb wild bergamot, our begamotcello, made from fresh bergamot citrus fruits, and honey.
Fruitful: Forbidden Fruit Vermouth, distilled Yuzu, Makrut Lime Leaves (known to some as Kaffir Lime), Ginger, distilled bee pollen and a dash of sugar.
Our friends over at Conserva Culture helped us narrow down the savory to Mussels in Escabeche and Jamón Ibérico Chips. Pro tip: use a chip as your vector for eating the mussels, because they taste amazing together and, fewer dishes, duh. These mussels come "straight from the majestic brine of the Atlantic.. each measured for plumpness and freshness, before being fried in olive oil and packaged in a pickling sauce." Produced by Ramón Peña - known as one of the highest quality conserva producers in Spain. Torres Jamón Ibérico Potato Chips are.. chips flavored like Iberian ham. Nuff said.
For our sweet component, our friends over at Fine + Raw helped us select a bar of their Lucuma + Vanilla Chocolate. Lucuma, a Peruvian fruit, is mixed in with cacao and vanilla to create a bar that "tastes like toasted marshmallow cookie, bread pudding, & melted ice cream all over dark chocolate. Let your tongues rejoice."
The picnic is wrapped up in a netted farmers market bag for you to carry this picnic from your kitchen to your living room floor.. and then, on into your very Hygge life.
Thank you to our friends over at Conserva Culture x Fine + Raw. If you're not familiar with them, get excited.