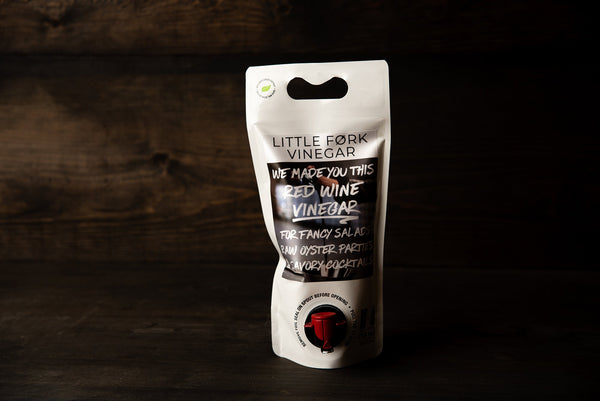 This a blend of two French wines. 
Wine A. was a 60% Grenache + 40% Syrah produced near the village of St-Gilles.

Wine B. was a Cab Franc and Malbec blend of the Loire Valley with unlisted percentages.
About Little Fo
rk Vinegar
I had an opportunity arise with a warehouse full of wine while working at a wine and spirits distributor. Imported wines by the pallet, that would never be sold to prevent market saturation. So I took some home and put them into a ceramic crock. Wine naturally wants to ferment into vinegar, I just helped it along by adding live cultured or unpasteurized vinegar to the batch. I did this in my kitchen, then my closet, until the souring smell overtook the apartment. Things really turned around when my wife and I opened Matchbook Distilling Co.
We capture wines from multiple tiers in the industry to create sustainable vinegars. There are three tiers in beverage alcohol, the supplier, distributor, and retailer. We'll come in at anyone of those, and pick-up wines by the barrel or bottle.
There's a number of things that can be happening in each tier. For example at a winery a barrel of wine can "go acetic" meaning an unwanted bacteria has entered the fermentation turning it sour aka into vinegar. At a wine distributor sometimes their suppliers ask them to destroy wine simply to keep it exclusive. Those are gold, this all started with one of those opportunities. Lastly, retailers can have stained labels, old inventory, or buyers that simply never pick up orders. We have relationships at all tiers, you'd be surprised how much wine is available.