SPRING FLING: II. Sole Mio & Sunkissed + Stargazed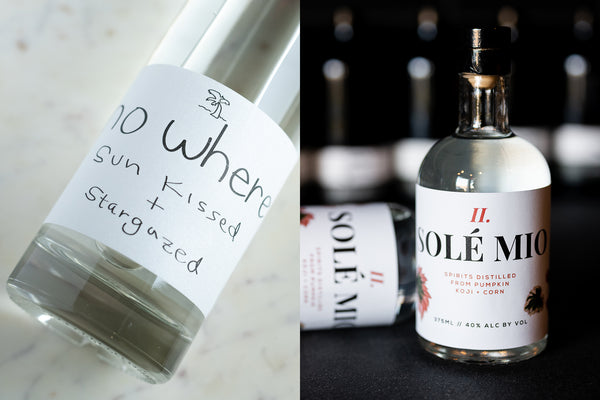 These two together, it was meant to be.  
II. Sole Mio and the Nowhere Sunkissed + Stargazed Triple Sec
Into the Bottle
Sunkissed + Stargazed Triple Sec Bio
Certified Organic Corn & Naval Oranges

Blingnova Vodka base

750mL

25% Alc. by Vol.
We start with Blingnova, our vodka made from certified organic corn. We add it to our pot still with 30+ pounds of fresh, organic, whole navel oranges - and we allow those oranges to sit and macerate overnight. The following day, we run the stills -- and the oils and other aromatics from the peels and the fresh juice travel through the still into our spirt. We dilute the fresh orange distillate down and add a good dose of sugar. A fresh take on a classic - but still perfect for your margarita. Nowhere is our second drop of the month because it mixes perfectly with II. Solé Mio. Try shaking this one up at home in a mason jar..
1 oz Nowhere Triple Sec
1 oz II. Solé Mio
.75 oz Fresh Lime Juice
.75 oz Simple Syrup
A few slices of jalapeno
Shake with ice. Strain. Enjoy!
Solé Mio can be subbed for tequila or mezcal. Add a few slices of jalapeno to infuse (it wont take much and it wont take long). Meanwhile, add 1/4 cup of sugar to 1/4 warm-hot water and stir to melt sugar. Put in the freezer to cool real quick. Juice a lime.. you can juice it straight into your glass or into a separate container if you want to get your measurements precise. Rule of thumb is 1 oz per juicy lime. Take your simple out and pour .75 oz into your shaker/jar. Shake with ice, strain over fresh ice, and enjoy.
II. Sole Mio Bio
Spirits Distilled from Koji, cheese pumpkin, puffed millet, kamut, and amaranth.
Suggested Serve
2 oz Sole Mio 1.5 oz pineapple juice 0.75 oz coconut cream 0.5 oz lime juice Shake with ice + strain over cracked ice. Fresh juice is fun but not necessary. To drink on it's own, sip roughly 1:1 spirit:water to draw out the flavors.
II. Solé Mio is our NY interpretation of shōchū, a Japanese spirit that uses Koji to breakdown the starches in the primary ingredients for fermentation. For our second vintage of Solé Mio we went to Treiber Farms to help harvest 8,000 lbs of Long Island Cheese Pumpkin, a sweet and flavorful heirloom variety of pumpkin that was nearly lost before seed savers and Slow Food worked to bring it back. These pumpkins, also known as Cinderella Pumpkins because of their shape, are remarkably sweet and flavorful — they're perfect for pie.. and they're perfect for Solé Mio.
We grew the koji for II. Solé Mio on a mixture of puffed grains, including millet, kamut and amaranth. We spent a few days chopping up the pumpkin and steaming, and stomping it into a puree. We milled some organic Oeschner corn into a hot water bath to gelatinize the starches, before cooling it down and adding our fresh koji. We transferred the mash into a fermenter with our steamed pumpkin and some light whiskey yeast. Fermentation lasted about 2 weeks.
We distilled Solé Mio through our copper pot column still and rested it in glass before slowly diluting it with water. The taste is long. It starts off zippy like alcohol and a sour apple candy.. but very quickly turns to corn and squash.. with a long squash and white flower finish. 
Enjoy it with some brown sugar and a squeeze of citrus. Even better.. ever made an oleo? Put some sugar (white or brown or whatever you've got) into a ziplock with some citrus peels. Order II. Solé Mio. By the time it arrives, hopefully the sugar has absorbed the oils in the citrus peels. That is oleo saccharum. Add a teaspoon of your oleo to 2 oz II. Solé Mio with some bitters. Enjoy at room temp or maybe with a cube of ice. Alternatively, add 1 oz II. Solé Mio to half a teaspoon of oleo and top with 4-5 oz of a sparkling wine. 
Cheers!
Leslie